Mini Pumpkin and Date Nut Cakes with Maple Glaze
These bite-sized cakes explode with fall ingredients like cinnamon, nutmeg, maple syrup and pumpkin. Canola oil's neutral taste allows these warm flavors to shine.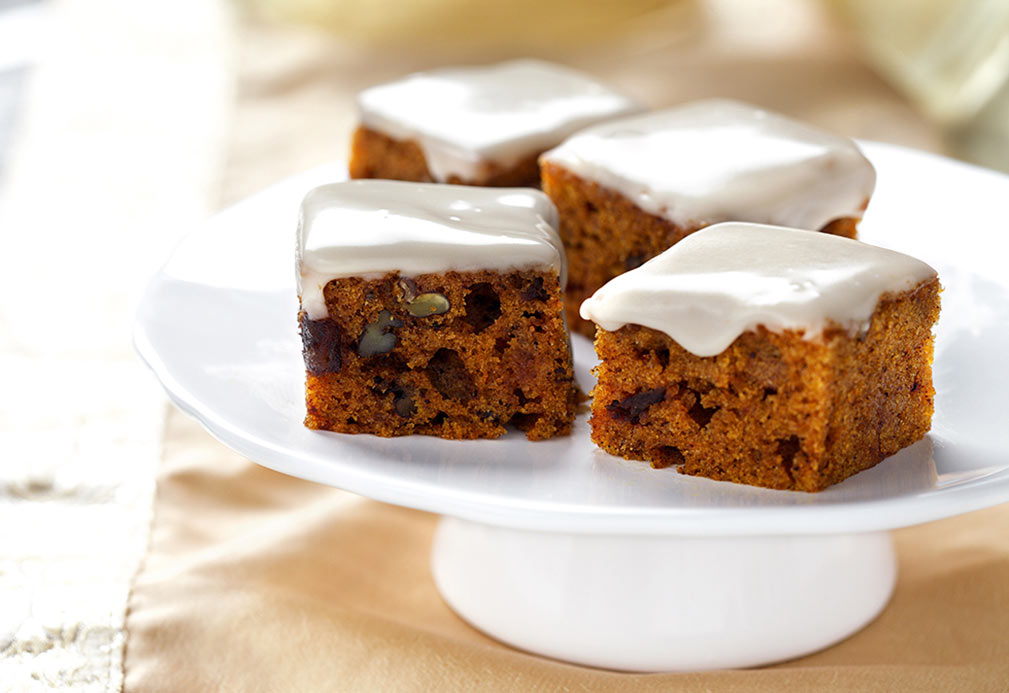 Ingredients
Mini Cake
canola oil spray
1 cup granulated sugar 250 mL
3/4 cup canola oil 175 mL
2 eggs
1 cup pumpkin purée 250 mL
1 1/2 cups all-purpose flour 375 mL
2 tsp baking soda 10 mL
1 1/2 tsp cinnamon 7 mL
1 1/2 tsp allspice 7 mL
1 1/2 tsp nutmeg 7 mL
1/2 tsp ground cloves 2 mL
1/2 cup chopped dates 125 mL
1/2 cup chopped toasted pecans 125 mL
Maple Glaze
1 cup confectioners' sugar 250 mL
1/3 cup maple syrup 75 mL
Instructions
1. Preheat oven to 350 °F (180 °C).
2. Spray 9 x 13 inch (22 x 33 cm) cake pan with canola oil.
3. In large bowl, beat together granulated sugar and canola oil until fluffy. Mix in eggs and pumpkin purée until well combined. Mix in flour, baking soda, cinnamon, allspice, nutmeg and cloves. When fully combined, stir in dates and pecans.
4. Spread batter into prepared pan. Bake cakes for 30-35 minutes or until toothpick inserted into cake comes out clean. Let cake cool completely in pan. While cake is cooling, make maple glaze.
5. To make maple glaze: sift confectioner's sugar into small bowl, pour in maple syrup and whisk vigorously with fork until smooth. Add additional maple syrup if necessary to achieve desired consistency.
6. Cut cooled cake into 36 small squares. Remove cake squares from pan and dip top of cakes into maple glaze. Place on rack and let glaze harden.
Tip: Serve on a cake stand for a pretty presentation.
Yield
36 mini cakes
serving size
1 mini cake
nutritional analysis
Per Serving
Calories
130
Total Fat
6 g
Saturated Fat
0.5 g
Cholesterol
10 mg
Carbohydrates
18 g
Fiber
1 g
Sugars
13 g
Protein
1 g
Sodium
75 mg
Potassium
55 mg