Pumpkin Cake with Cream Cheese Drizzle
Canola oil and the pumpkin together make this cake so moist.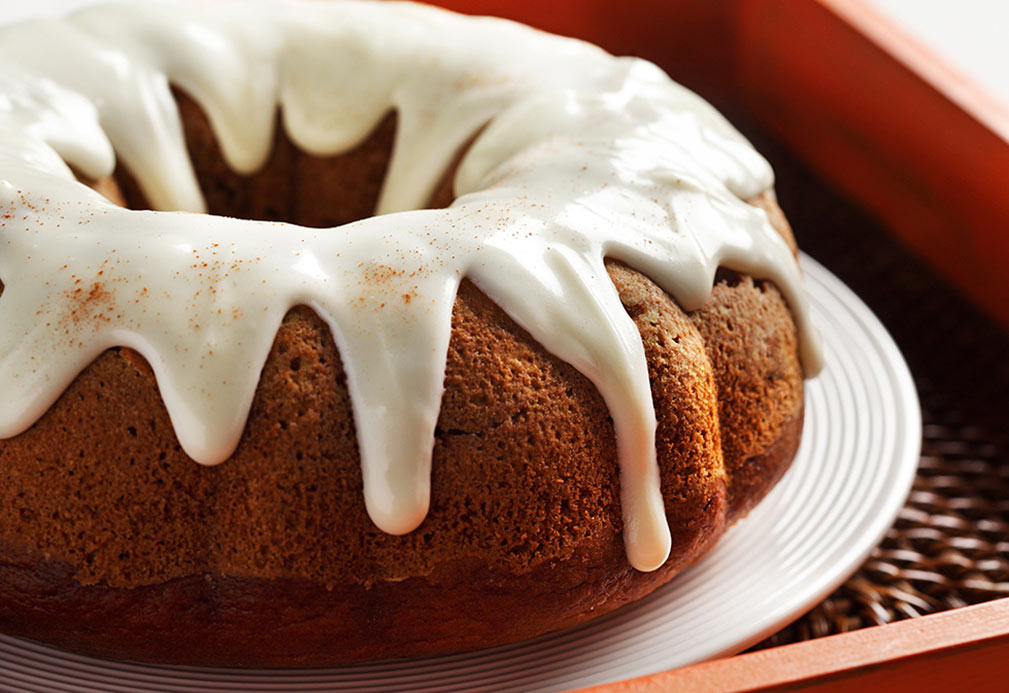 Ingredients
Cake
2  3/4 cups all-purpose flour 675 mL
1-1/2 tsp baking soda 7 mL
1 tsp ground cinnamon 5 mL
3/4 tsp ground nutmeg 4 mL
1/2 tsp ground ginger 2 mL
1/4 tsp ground cloves 1 mL
2 cups pumpkin puree 500 mL
2 cups granulated sugar 500 mL
3/4 cup canola oil 175 mL
3 large eggs
1/2 cup water, room temperature 125 mL 
Cream Cheese Drizzle
4 oz cream cheese, softened 125 g
1/2 cup confectioners sugar 125 mL
1 tbsp canola oil 15 mL
  hot water
Instructions
1. Preheat oven to 350°F (180°C). Spray a tube pan with canola oil. Set aside.
2. In a large bowl, stir flour, soda, cinnamon, nutmeg,
ginger and cloves. Set aside.
3. In a large bowl, combine pumpkin, sugar, canola oil, eggs and water. Blend well. Add dry ingredients, mixing only to blend.
4. Pour into prepared pan, bake in preheated oven until a cake tester comes out clean, about 65 to 70 minutes. Let sit in pan for 10 minutes, then invert on serving plate. Make the drizzle.
5. In a mixing bowl with paddle attachment, blend cream cheese, confectioners sugar and canola oil until soft, add hot water for desired consistency.       
6. When cake has completely cooled you can drizzle on top. 
Variations:
Chocolate Chunk Pumpkin Cake: Replace the 2 3/4 cups (675 mL) of flour with 2 cups (500 mL) of flour and 3/4 cup (175 mL) of cocoa powder and add 1/2 cup (125 mL) of semi sweet chocolate chunks to the batter.
Pecan Pumpkin Cake: Add 1/2 cup (125 mL) of chopped toasted pecans to the batter.
Yield
12 servings.
serving size
1 slice.
nutritional analysis
Per Serving
Calories
330
Total Fat
15 g
Saturated Fat
2.5 g
Cholesterol
45 mg
Carbohydrates
47 g
Fiber
1 g
Sugars
31 g
Protein
4 g
Sodium
150 mg