Sugar Dusted Wine Cake
Baking with canola oil can reduce you saturated fat intake.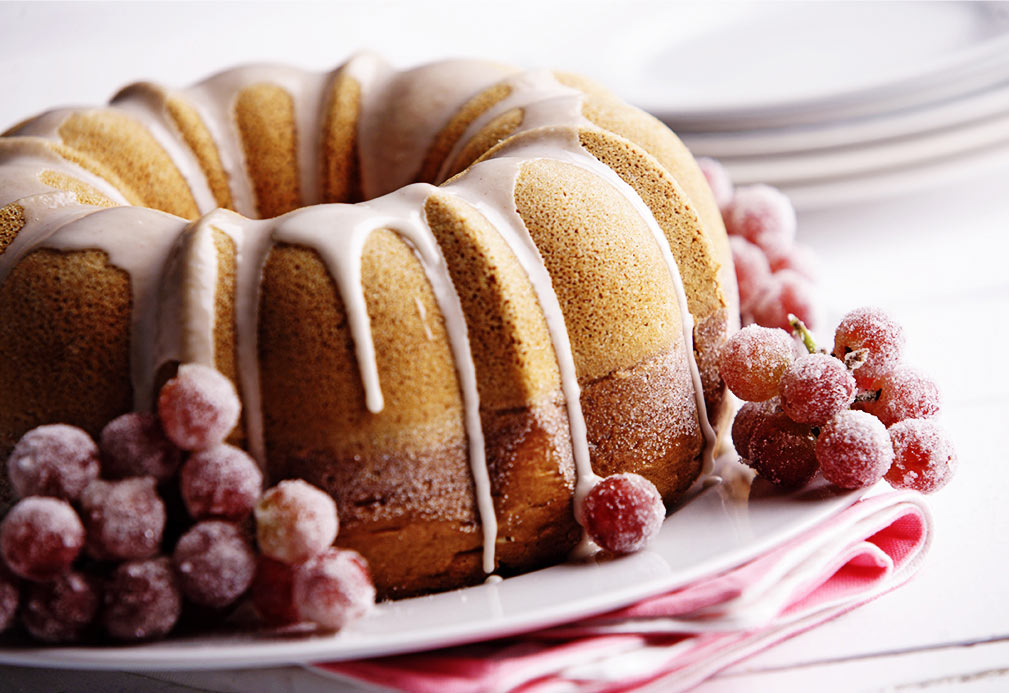 Ingredients
1/3 cup granulated sugar 75 mL
1 tsp cinnamon 5 mL
1 (18oz/515g) pkg. white cake mix
1 (4oz/113g) vanilla instant pudding
1 tsp cinnamon 5 mL
1/2 tsp nutmeg 2 mL
1/2 cup canola oil 125 mL
1 cup white wine 250 mL
4 eggs
Icing
1 cup icing sugar 250 mL
1-2 Tbsp milk 15-30 mL
dash cinnamon
Instructions
1. Preheat oven to 350 °F (180 °C). Spray a 10 inch (25 cm) bundt pan with canola oil.Combine sugar and 1 tsp (5 mL) cinnamon in a small bowl. Dust bundt pan with mixture.
2. In a mixing bowl, combine cake mix, pudding, cinnamon, nutmeg, canola oil, wine and eggs. Beat on medium speed for 5 minutes. Carefully pour into prepared pan. Bake for 50-60 minutes or until tester comes out clean. Let cake cool on rack, in pan, for 10 minutes. Remove from pan, place cake on wire rack and cool completely.
3. Icing: Combine icing sugar, milk and cinnamon in a small bowl and whisk until smooth.Stir in milk until icing reaches desired consistency. Drizzle over top of cake. Serve cake with fresh fruit.
Yield
12 servings
serving size
1 serving
nutritional analysis
Per Serving
Calories
400
Total Fat
16 g
Saturated Fat
2 g
Cholesterol
70 mg
Carbohydrates
58 g
Fiber
<1 g
Protein
4 g
Sodium
440 mg