Pumpkin Walnut Cupcakes with Crème Frosting
Rich and creamy frosting tops these lightly spiced cupcakes, which are perfect for any fall gathering. The batter is so simple to prepare, you can mix it by hand.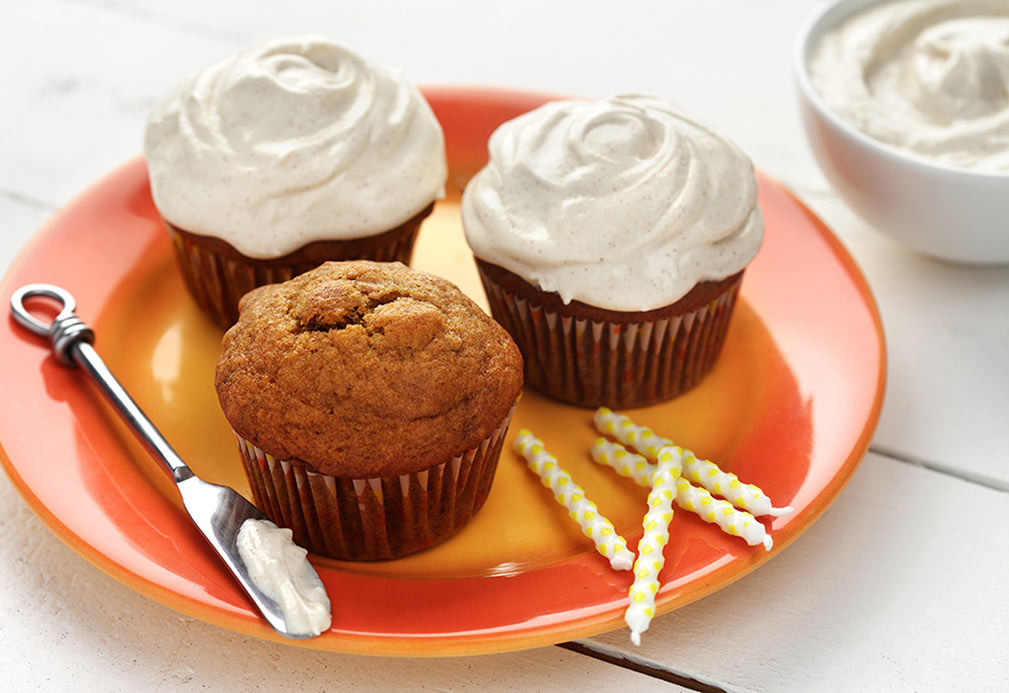 Ingredients
Cupcake
1 cup whole pumpkin (canned, not filling) 250 mL
2 large eggs
1/2 cup canola oil 125 mL
2 1/2 Tbsp cool water 25 + 7 mL
2 tsp pure vanilla extract 10 mL
1 1/4 cups granulated sugar 300 mL
1 3/4 cups all-purpose flour 425 mL
1 1/2 Tbsp pumpkin pie spice 20 mL
1 tsp baking soda 5 mL
1/2 tsp sea salt 2 mL
1 cup walnuts, toasted and coarsely chopped 250 mL
Crème Frosting
7 oz marshmallow cream (fluff) 200 g
1 tsp pure vanilla extract 5 mL
1/2 tsp ground cinnamon 2 mL
8 oz cream cheese, softened, cut into chunks 250 g
Instructions
1. Preheat oven to 350 °F (180 °C). Place oven rack into center. Prepare cupcake
tin (12) with papers. Set aside.
2. In large bowl, whisk together pumpkin, eggs, canola oil, water and vanilla until well blended. Add granulated sugar and mix until fully incorporated. Set aside.
3. In medium bowl, whisk together flour, pumpkin pie spice, soda and salt. Fold into flour mixture, blending until fully combined. Fold in toasted walnuts. Divide evenly into tins.
4. Bake in preheated oven until cake tester inserted into center comes out clean, about 18-22 minutes. Let cool in tins for 20 minutes.
5. To make frosting, in mixing bowl fitted with paddle attachment on medium speed, blend marshmallow cream, vanilla and cinnamon. While mixer is running, add cream cheese chunks. Blend until fully incorporated, about 5 minutes. Decorate cooled cupcakes.
Tip: You can also use 1 Tbsp (15 mL) ground cinnamon, 1/2 tsp (2 mL) ground ginger and 1/4 tsp (1 mL) ground nutmeg vin place of pumpkin pie spice. Dip your spatula into canola oil prior to removing marshmallow cream for ease.
Yield
12 cupcakes
serving size
1 cupcake with 1 Tbsp (15 mL) icing
nutritional analysis
Per Serving
Calories
430
Total Fat
23 g
Saturated Fat
5 g
Cholesterol
50 mg
Carbohydrates
51 g
Fiber
2 g
Sugars
31 g
Protein
6 g
Sodium
250 mg
Potassium
112 mg