Pumpkin Pecan Cream Cake
Try this very moist and rich cake for Thanksgiving. The canola oil creates such a moist cake that you can leave it out on the counter for the day and it will not be dry.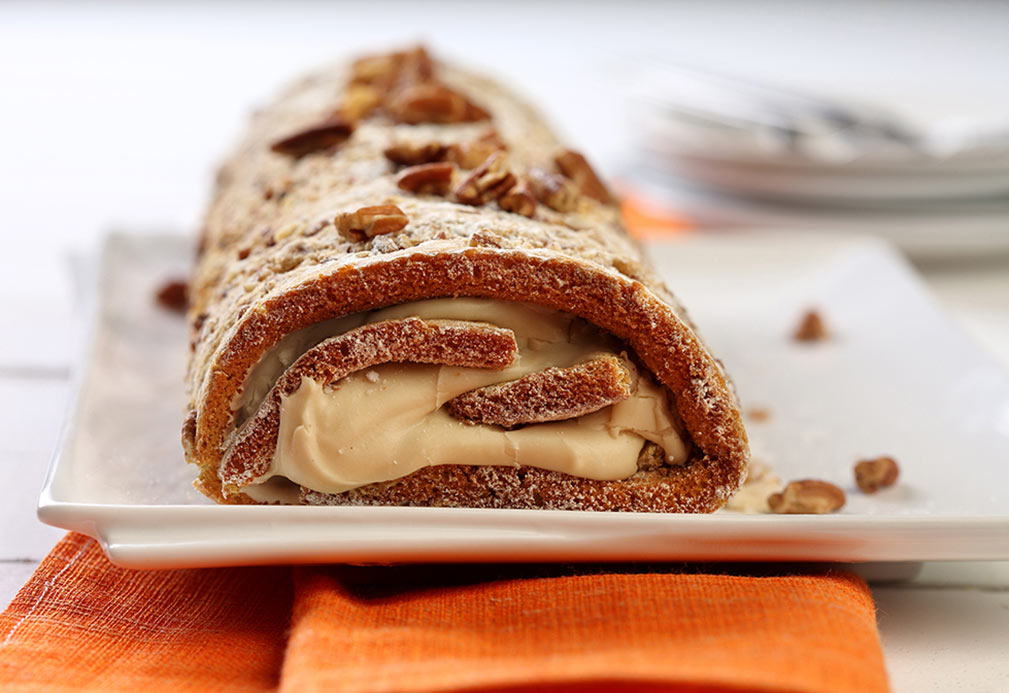 Ingredients
Cake
3/4 cups all-purpose flour 175 mL
1 1/2 tsp ground cinnamon 7 mL
1 tsp baking powder 5 mL
1 tsp ground ginger 5 mL
1/2 tsp salt 2 mL
1/2 tsp ground nutmeg 2 mL
1/4 tsp ground allspice 1 mL
1 cup granulated sugar 250 mL
2 large eggs
1/4 cup canola oil 60 mL
3/4 cup canned pumpkin 175 mL
1 tsp orange juice 5 mL
1 1/4 cups finely chopped pecans 300 mL
1/4 cup icing sugar 60 mL
Filling
8 oz cream cheese, softened 250g
1 1/2 cups icing sugar 375 mL
2 Tbsp canola oil 25 mL
1 tsp pure vanilla extract 5 mL
2 Tbsp coffee flavored liquor or strong coffee 25 mL
Instructions
1. Preheat oven 375 °F (190 °C). Prepare a jellyroll pan with canola spray and then a sheet of parchment paper fitting perfectly to the sides. Set aside.
2. In a bowl, whisk flour, cinnamon, baking powder, ginger, salt, nutmeg and allspice. Set aside.
3. In mixing bowl fitted with paddle attachment on medium speed mix sugar, eggs and oil until pale yellow, about 6 minutes. Add pumpkin and orange juice to blend.
4. By hand, add flour mixture. Mix only to incorporate.
5. Spread batter evenly into prepared pan, sprinkle with pecans. Press down nuts into batter slightly.
6. Bake until cake springs back, 12 to 16 minutes.
7. Meanwhile, while cake is baking, spread out a clean dishtowel that is larger than the pan, dust with icing sugar. As soon as cake is baked, turn upside down onto towel. Remove pan and peel away parchment paper.  Roll cake up in towel starting with the short end. Let cool completely in towel, about 45 minutes.
8. Meanwhile make the filling. In work bowl of food processor fitted with the metal blade, process cream cheese, icing sugar, oil and vanilla until smooth, about 2 minutes. Refrigerate until needed.
9. Unroll cake, brush coffee liqueur on top of cake, spread filling evenly. Roll cake back up, place seam side down on a serving platter. Refrigerate for at least 45 minutes prior to serving. Use a serrated knife to cut.
Yield
8 to 10 servings
serving size
nutritional analysis
Per Serving
Calories
470
Total Fat
27 g
Saturated Fat
6 g
Cholesterol
65 mg
Carbohydrates
54 g
Fiber
2 g
Protein
5 g
Sodium
250 mg